In Petersburg, under the guise of a firm specialising in internet research, there hides an Orwellian Ministry of Truth. Hundreds of young people – day and night, up to 12 hours a day – express their admiration of Putin and their hate of Ukraine.
Everyday, before 9pm on Savushkin St in Petersburg, a strange sort of ritual is performed. Either in small groups or solo, young people race along the pavement as quick as their legs will carry them. They head for number 55, a four-storey house, ordinary and unmarked.
These are the workers at the "ministry of truth". This is how Internet Research Co. is known in the local media. If we look closer, we will no longer wonder as to why its young employees are in such a hurry – a minute's lateness carries a 500 rouble penalty. War demands discipline, and information wars are no different.
A mole in the ministry of truth
Everything started in Olgino, a district of Petersburg way off from the centre. The firm was first regirstered in July of 2013. A few months later, two journalists from Novaya Gazeta managed to get jobs there, in spite of the requirement for them to leave their passports at reception right after the interviews. The desks, home to trolls who would pen and post up to 100 comments a day, would be decorated with pages of suggested internet comments. Among them, the journalists from Novaya found comments attacking the Russian edition of Forbes Magazine. The internet assault on Forbes was organised in the spring of 2013, hence the troll factory had to have been in existence a good few months before it was officially registered.
Chocolate Lenin and Putin's chef
The Olgino HQ turned out to be too cramped to meet ongoing demand, considering the uncertain times it was operating in. We are, of course, referring here to Maidan, the annexation of Crimea and the war in Ukraine. In 2014, the ministry of truth moves to a new building: a four-storey office block, 4500 sq m., on Savushkin St.
The structure and staff of the firm also swelled. Today, it employs around 400 trolls. Pay has also gone up: in 2013, these stood at 26,000 roubles, rising to 45,000 today. This relatively high rate of pay attracts most young people. That is how those who have worked for Internet Research Co justify their decision. Demands upon employees rose along with their wages. Workers swap between 12 hour shifts, having to produce 135 comments during each shift. Job ads do not stand out in an specific way: an elegant office, a young team, weekly wages, free meals. Innovators, internet operators and a range of other workers are sought out – much like in any other corporation.
Neither the financing nor the structure of Internet Research Co are not all that transparent. The firm was once again registered in March 2014, but as its head it figures Mikhail Ivanovich Bystrov, a retired police officer. All that is known for certain is that the whole enterprise is financed by a catering holding Concord, managed by Yevgeny Prigozhin, friend and chef to Putin himself. His official webpage states he is not only the leader in catering in Russia, but also in Europe, servicing the biggest firms and corporations around the globe, while also running a chain of exclusive shops, offering a range of unique goods, such as chocolate Lenin statuettes. The troll farm is not listed as an asset.
Marat Bukhard
No further cases of journalist infiltration have been reported. And yet, in employing such large numbers of students, leaks were inevitable. Up until now, these have been anonymous, because all of the employees, clearly, were scared to come out and be identitified. Ironically enough, online texts about the ministry of truth fell foul of the trolls' activities, who then went on the counterattack, accusing the media channels responsible of trolling. Eventually, however, Petersburg blogger Marat Burkhard managed to get himself hired at Internet Research Co, in order to be able to tell the world about the work they do.
Burkhard, an opinionated man, whose views could be described as "pro-West", worked in the "troll factory" for two months. Before he was taken on, he had to write an essay on a studentish theme; "Vegetarianism – pro or against?", which would be used to assess his suitablity. He was hired to work in a section which wrote comments on local Russian forums, from Great Novgrod all the way up to Vladivostok. Burkhard then went on to give numerous examples of how the section he worked for sent out its propaganda.
Trolls were divided into three groups: "wicked trolls" who criticised the establishment in rather heavy-handed, sloppy ways; "trolls with pictures" and "trolls with links", who then go up against the sloppy critics of the government in a serious way. In this fashion, the ministry of truth brought to active life local online forums all over Russia, along with those which had lain dormant for a long time.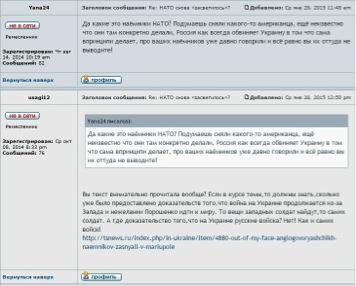 Example: the city forum Astrahanya "publishes" a post referring to a text about the war in Ukraine, and specifically about the presence of "NATO recruits" in the ranks of the Ukrainian army. The first to respond is a wicked troll. Without omitting to write in a style loaded with mistakes, he criticises the article, arguing that no one has been identified, and it is Russia which has the habit of accusing others of what it is guilty of? A little later, a troll with links goes into action: he accuses his heavy-handed troll "enemy" that he hasn't even read the text, and argues that there is plenty of evidence to show that Ukraine is littered with belongings left behind by Western soldiers, and even soldiers themselves. He supports his argumennts with links to an article, written and published, as it happens, at 55 Savushkin St. In order for truth to flourish, of course, a third troll appears with visual evidence to support the troll with links. His role is to deliver a dose of spiritual fuel, which usually involves a meme or a demotivating posters about the hypocrisy of the West.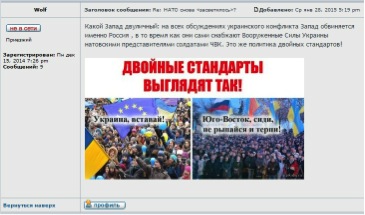 Discussions on the same subject started then on 35 different Russian forums, creating a feeling among internet users that everyone in Russia is in suprising agreement about Ukraine. Well, with the exception of those sloppy trolls.
Marat Burkhard worked in a section focued on Russian forums, but this is not the end of the Internet Research Co story. Its other departments service Facbook, its Russian equivalent Vkontakte, carrying out attacks against specific media sources, running LiveJournal blogs, creating demotivating memes, some with the heads of Navalny or Obama pasted onto photos of chimpanzees, as well as writing comments in foreign languages, on sites such as the BBC and CNN. Workers who can speak and write foreign languages earn more: 65,000 roubles. Contact between workers in different departments are intentionally limited.
Authoritarianism 2.0
The editors of Russian liberal media outlets have become hardened against troll attacks and began to cope. In the West, however, Russian trolls are causing consternation among portal administrators and journalists. The Polish media has already reported the large number of comments posted by users with IP addresses which are based abroad.
The same is happening in other countries. The online page of the liberal, pro-European Die Zeit weekly receives twice as many comments on posts relating to Russia as any other topic of interest to Germans, such as the question of Greek debt.
A record number of comments appeared under an article about Angela Merkel declining the invitation to celebrate the Day of Victory in Moscow. As could have been expected, few of the 613 comments under the article were in favour of the Germanl chancellor's decision.
Until now, it might have seemed that the internet is a medium which, thanks to easy access to information and control of it, would slowly help crumble old regimes and strengthn democratic communities. The best example of this was the online battle over freedom of speech in various undemocratic states. Russian authorities, however, are proving that the internet, as much as any other platform, could be used as a tool for clever manipulation. Turning on the TV, opening a newspaper, and now conneting to the internet, an average Russian receives a samey, uniform version of world affairs. The shamelessness with which the government hires random people in order to help spread propoaganda only helps to show that the Kremlin has decided that these few precent of self-aware people can simply be ignored. The majority of Russians won't hear about the troll factory anyway, and even if they do, they won't believe a word of it.
The Putin's Parade section is edited by Łukasz Jasina.